Marcell Johnson Motivational Speaker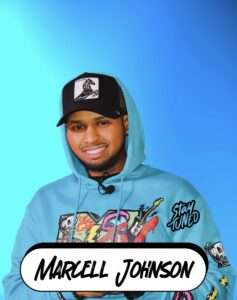 Marcell Johnson is a transformational public speaker & life coach who influences, impacts, and speaks into the lives of people all over the world from all walks of life.  Whether speaking on stages or on his own TV show, "The Freedom Experience" he brings creativity, hope, love, and purpose back into the lives of students. Virtually or physically, Marcell has a gift of connectivity.
Life trials and education, along with his unique gifts inspired him to become an entrepreneur who loves helping people rise to the best version of themselves, ultimately bringing them to purpose. Marcell lives in Pittsburgh PA and founded three organizations that serve schools, the homeless, and entrepreneurs. He speaks in conferences, schools, colleges, churches, organizations, workshops, festivals, establishments and a plethora of other events. 
Students love Marcell because they can feel the love that he has for each student that he presents to. He has around twenty topics for principals to choose from and can customize his speeches to fit what your school or organization needs!