Gifted was born on the West bank of New Orleans and began approaching the stage at a very young age. He had many obstacles in his life to overcome, which were addictions and being in trouble with the law. He stepped in front of his brother and received a bullet shot to the face. Soon after, he realized that he had to have his life turned around. Gifted then began using his gift of music to spread a dynamic message of love and hope throughout the nation with a strong concentration on the youth of today.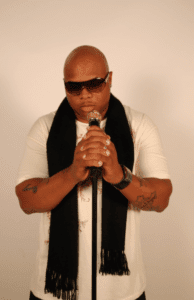 Highlights of Gifted's Itinerary
-Artist signed to marketing company, "The Music Insider"
-Artist on the 2008 NBA All-Star Event
-Artist on Hip Hop Hope UK Tour 09 in Rotherham and London, England
-Artist on 2009 South by South West conference
-Various Prison Ministries
-Artist on Victory Fellowships annual "Feed the Multitudes"
-Music has debuted on "The Hype," the world's #1 Christian Rap Radio Show
– Syndicated to over 250 stations
– National radio servicing campaign to all stations playing Gospel rap music
– National print media advertisements in U-Zone, & Tha Message Magazine
– Global internet campaign servicing all major Christian websites
(Banner ads & splash pages)
-Volunteers as Rap Artist at Church Under the Bridge which is a ministry to the
homeless in Houston, Texas
– Featured artist and writer on over 50 released albums, most notably Bishop
Lester Love's where love Abides and Bushwick Bill's "Testimony of Redemption"
-Has performed and shared the stage with Yolanda Adams, George Huff, Lecrae,
James Fortune, Shei Atkins, Bun B, Kobe Bryant, Spike Lee, Dougie Fresh,
BB Jay, Bishop Lester Love, Rhonda Maclamore, MTV's Sway, Yunek, Mark J,
Braille
– And many more!